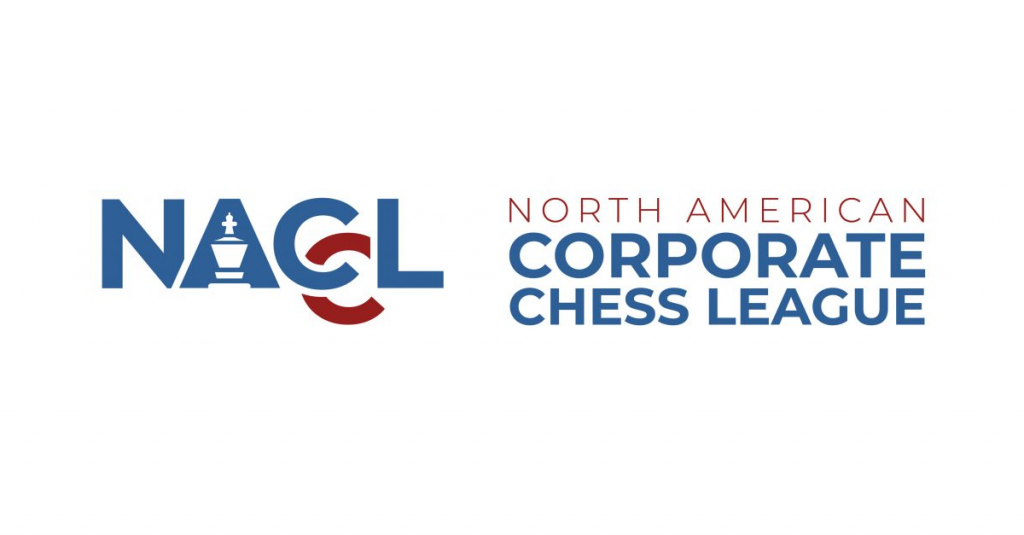 Season 4 of the North American Corporate Chess League is here! With 39 teams and 475 players, this is one of the largest seasons to date. The NACCL is always held on the popular free and open-source chess site, lichess.org, and is the largest seasonal corporate chess league in the world. Online corporate chess is here to stay!
There are many returning teams including traditional powerhouses Google (Season 2 and 3 Champions) and inaugural winners, Susquehanna International Group. There are also many new teams and players, including many titled players.
As always, the NACCL features an inclusive, easy-to-understand, and flexible format. An overwhelming number of the players in the league are casual players – there are no Grandmasters this season. The top four scores from each company comprise a team's score, so recreational players can compete without the fear that they are "bringing down" their colleagues. There are also individual standings and prizes, plus weekly chess improvement seminars for all participants.
With a simple online check-in process and no downloads, roster submissions, memberships, or powerhouse chess teams from within the industry, the NACCL is very accessible and straightforward, meanwhile emphasizing engagement, team building, and the popularization of chess.
Individual Standings
352 of the 475 players checked in for week 1, which consisted of two games of 15+5 (15 minutes plus 5 second increment per move).  Top players this season are IM Kyron Griffith (Lyft), IM Ritvars Reimanis (Google), FM Benjamin Moon (Deloitte), NM Saumil Padhya (Deloitte), and FM Varun Krishnan (Lyft), each rated over 2300.
John Gruska (1812) of Google showed some nice tactics in his round 1 game against Alexander Sorokin (1455) of Airtable:
As is the nature of rapid games, there were a few upsets up and down the crosstable.  Many expert (2000+) rated and other strong players did not get through 2 rounds unscathed. 
Team Standings
In the team standings, only 3 teams scored the maximum 8 points – Google, Qualcomm, and Deloitte. 
Susquehanna International Group and Hewlett Packard Enterprise have 7.5 team points, and Citadel Securities and Lyft round out the top 7 with 7 points.  The top four player scores within each company contribute to the team standings.  With only 3 teams on a perfect score after just 1 week, this looks to be the most competitive season yet.
Prizes
In addition to team prizes, the league offers individual prizes for the top performers.  67 players move to 2-0 on the individual standings, but with an accelerated pairing system and closer matchups coming up in week 2, the number of perfect scores will be whittled down quickly.  Players who skip an early week earn half point "byes" so as to help their team a bit even if they must miss a week or two.  Individual standings can be found here.
Live Commentary
FM Gauri Shankar commentated live on week 1's games, which you can replay here.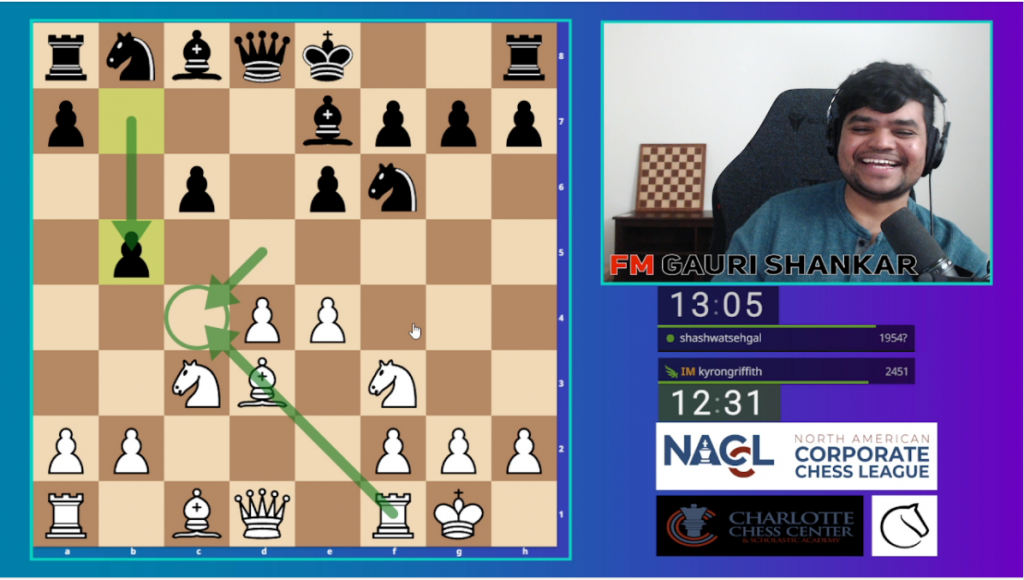 Follow the League
Keep up with updates via this blog, our LinkedIn group, and Facebook page.
Note: The NACCL does not spam its members via Linkedin messaging nor do we share personal contact information with any external companies. Should players, companies, or other entities wish to read out to us, please contact us at [email protected]