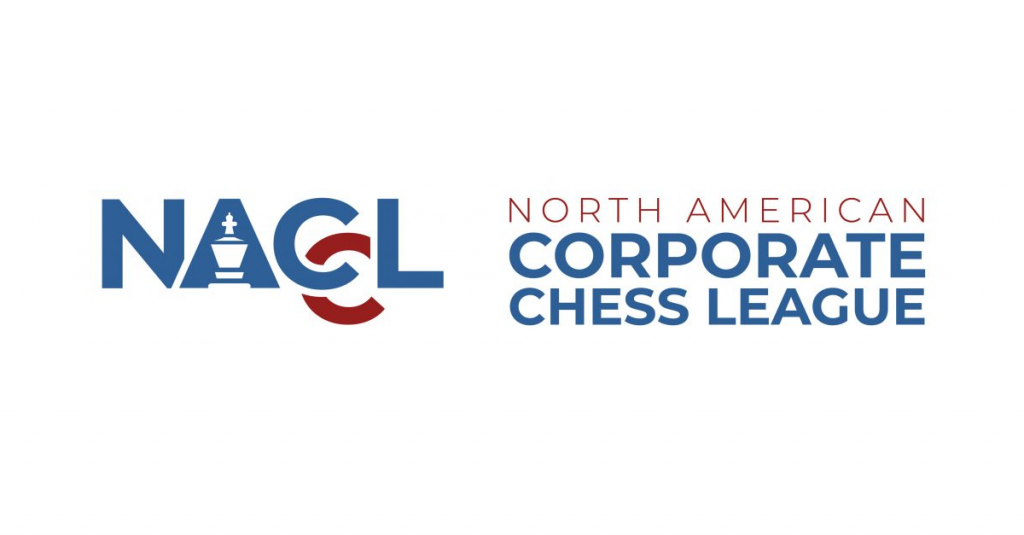 Championship week of the North American Corporate Chess League's Season 4 featured top level of action, with many ups and down through the final round of play. The season-long competitive "rivalry" between Deloitte and Google led to a thrilling finale. With just a few games remaining in round 12, the team standings were tied at 35.5 points each.
Team Standings
The NACCL Season 4 title would eventually be determined by boards 1 and 3 of the final round, namely FM Benjamin Moon (Deloitte) against NM Kola Adeyemi (Google) and Haotian Zheng (Google) against NM Saumil Padhya (Deloitte). In the end, Deloitte's top players emerged victorious, launching Deloitte to its first title. This is Deloitte's first title, joining Google and Susquehanna International Group as NACCL champions.
Deloitte's 37.5 points in the final team standings ties Google's record in season 3 for the highest team score ever achieved. They were led by very strong performances by:
| | |
| --- | --- |
| FM Benjamin Moon | 10.5 points |
| NM Saumil Padhya | 9.5 points |
| Sohail Shaikh | 9 points |
| Igor Alfimov and Teddy Shih | 8.5 points |
Google finished with 35.5 points with strong performances by:
IM Ritvars Reimanis
9.5 points
Lambert Liu
9 points
Arpit Hamirwasia, Haotian Zheng,Bret Bryan,
NM Kola Adeyemi, Benjamin Stern, Larkin Wisdom

8.5 points
Susquehanna International Group (SIG) was briefly in title contention but settled for a very solid third place. The team was led by:
| | |
| --- | --- |
| Nan Zhao | 9.5 points |
| Cory Riegelhaupt | 9 points |
| Bary Lisak | 8 points |
| Ella Papenek and Brian Luo | 7.5 points |
Jump Trading finished in clear 4th place with 29.5 points
A big tie for 5th-7th place at 29 points were: Ernst & Young, Peak6 Investments, and DRW respectively. In a logjam for 7th-13th with 28.5 points were: Qualcomm Inc., Palantir, Asana, Capital One, Jane Street, and Milliman respectively.
Plaques are awarded to the top 10 teams, in addition to the top IT Company (Google), top Financial Services Company (SIG), 1st and 2nd Small Company (Flume Water and Planetary Systems), Top Law Company (Sullivan & Cromwell)
See final team standings here.
Individual Standings
Critical to Deloitte's victory was the dominant performance by their top player, FM Ben Moon, who scored 10.5 points out of 12, losing a close game to Lambert Liu and splitting the point with IM Ritvars Reimanis, but defeating 10 other strong opponents.
Tying for second place were Deloitte's NM Saumil Padhya, SIG's Nan Zhao, and Google's IM Ritvars Reimanis.
| | | |
| --- | --- | --- |
| Name | Team | Prize |
| FM Benjamin Moon | Deloitte | 1st Overall |
| NM Saumil Padhya | Deloitte | 2nd Overall |
| Nan Zhao | SIG | 3rd Overall |
| IM Ritvars Reimanis | Google | 4th Overall |
| Lambert Liu | Google | 5th Overall |
| Larkin Wisdom | Google | Top U1700 |
| Eddie Szmigielski | Deloitte | Top U1100 |
| Satish Shivareddy | Qualcomm | Top Unrated |
Overall, there were awards for the top 15 players overall, plus the top 10 rated under 1700, top 10 under 1100, and top 10 unrated. Each of these prize winners will earn a plaque.
See final individual standings here
Kyron's Corner
IM Kyron Griffith (Lyft) annotates 4 games each week of the NACCL:
Use dropdown menu above to select between the 4 games.
Commentary and Lectures
Replay FM Peter Giannatos' final week commentary here. It was action packed with a lot of ups and downs throughout!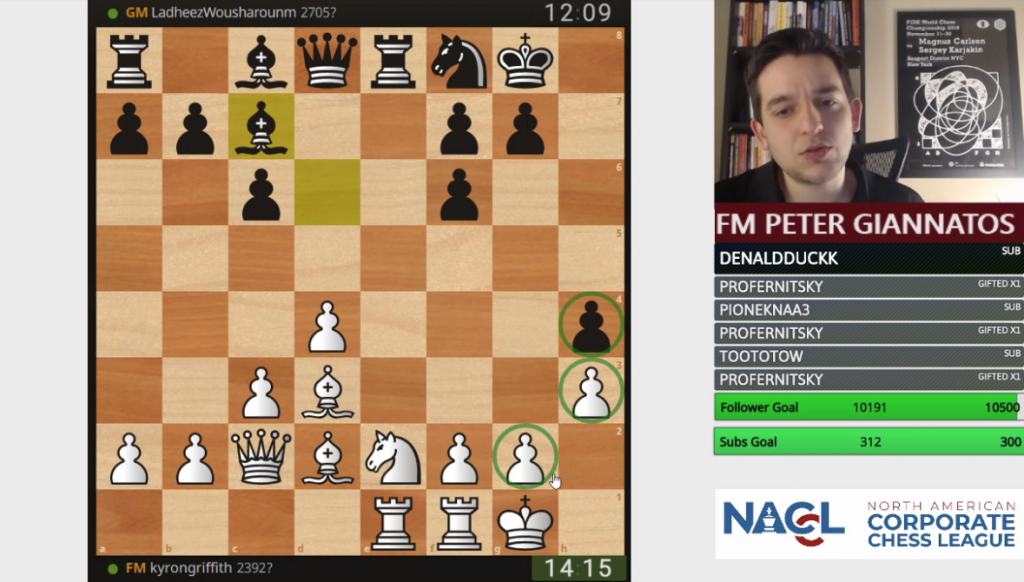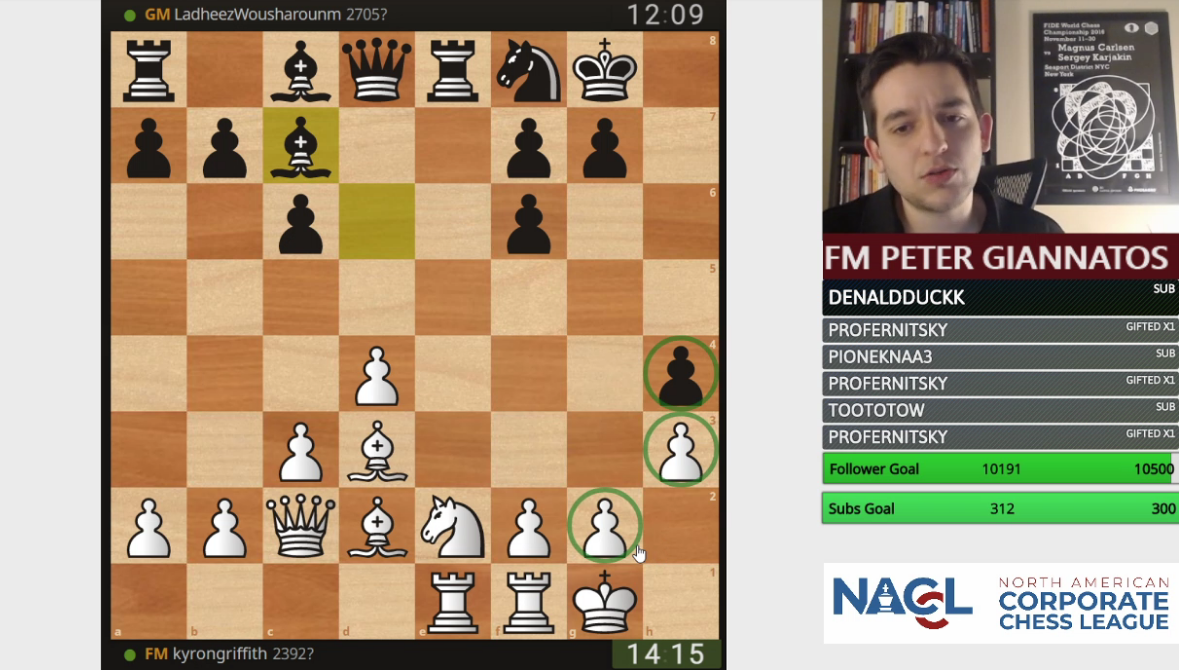 Season 5
Season 5 will likely begin at the tail end of Q2 or the beginning of Q3. Stay tuned for more information and use the links below to keep up with NACCL happenings.
Follow the League
Keep up with updates via our website, this blog, our LinkedIn group, and Facebook page.
Note: The NACCL does not spam its members via Linkedin messaging nor do we share personal contact information with any external companies. Should players, companies, or other entities wish to read out to us, please contact us at [email protected]