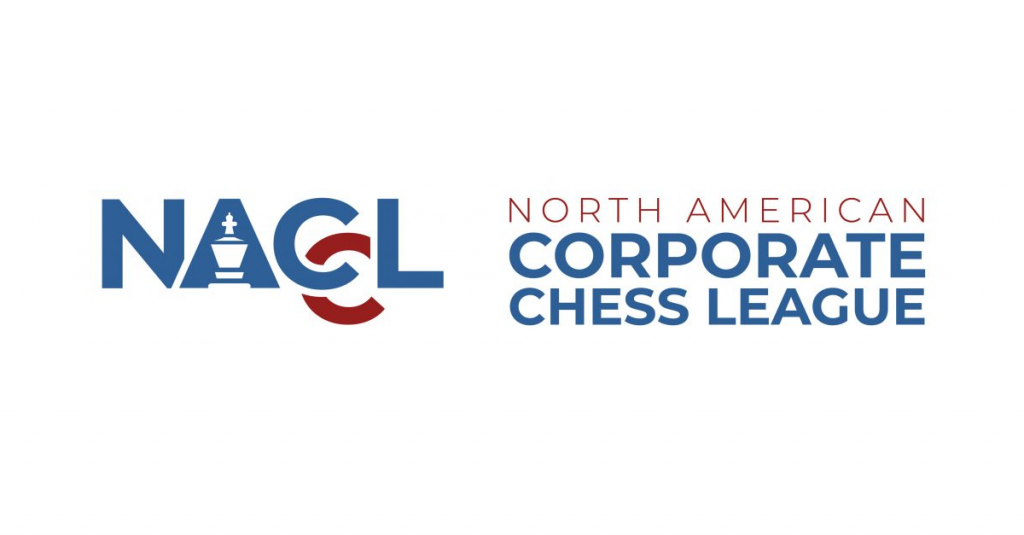 In a nail-biting finish of championship week of the North American Corporate Chess League's season 7, Capital One held onto their narrow lead to secure the S7 title. This is Capital One's first title, and they join Deloitte, Google,and the Susquehanna International Group as NACCL champions.
Team Standings
Finishing with 51.5 points, Capital One's team was led by IM Craig Hilby (15 points), Philip Yu (13 points), and a trio of players at 11.5 points: Nishanth Rajasekaran, Ryan Keiper, and Thao Nguyen.
With the top four players from each company constituting their team score, the team from Ernst & Young was just half a point behind at 51 points. The EY team was led by valiant efforts from NM Mike Zaloznyy, NM Sameer Mujumdar, and Joel Jaffe (13 points) as well as Chandan Kumar (12 points).
Tied for third place were Google-A, Deloitte, and Jump Trading with 47 points. Sixth place went to DRW Holdings, seventh place went to Accenture Federal Services, and three teams tied for eighth place: FINRA, PricewaterhouseCoopers, and Google-B.
Plaques are awarded to the top 10 teams overall, as well as the top two small companies (Bedoukian Research Inc and Flume Water).  The full team standings and awards can be seen here.
Individual Standings
Finishing his wire-to-wire victory atop the individual standings was IM Craig Hilby, certainly the most integral part to Capital One's victory. While Craig's individual gold was relatively secure in the final week, finishing in first place with 15.5 points out of 18, a last round loss to NM Sameer Majumdar of EY almost led to team disaster:
In the end, this upset wasn't enough for EY to overtake Capital One, as IM Kyron Griffith (Lyft) swindled an important game against EY's Krishnan Warrier which could have shifted the balance:
In second place was season 7's sole Grandmaster – Andrey Baryshpolets, a recent candidate for FIDE President who works for PricewaterhouseCoopers. GM Baryshpolets scored a sturdy 15 points for his team.
In a tie for third place with 13 points were: NM Mike Zaloznyy (EY), NM Sameer Mujumdar (EY), Philip Yu (Capital One), Joel Jaffe (EY), NM Andrew Lu (DRW Holdings), and Alan Surman (Hewlett Packard Enterprise).
Plaques are engraved and mailed to the top 15 players overall, as well as top 3 in each rating category: Expert, Class A, Class B, Class C, Class D, Class E, Under 1000, and Unrated.  See full individual standings and awards here.
Game Analysis
IM Michael Bodek (Lyft) annotates 4 games every week.
If you feel as though you played an interesting game. Please feel free to send Michael a link to the game via lichess. His account is @mbodek
Peter's Puzzlers
FM Peter Giannatos provides puzzles from games played in the NACCL. These are great tactical warmups and you never know when your game will appear here!
If you had an interesting tactic in your game. Please feel free to send Peter a link to the game via lichess. His account is @Giannatos
Commentary and Lectures
FIDE Master Gauri Shankar had the call on week 6 commentary, which can be replayed here Monday marked our final weekly improvement seminar with GM Daniel Naroditsky.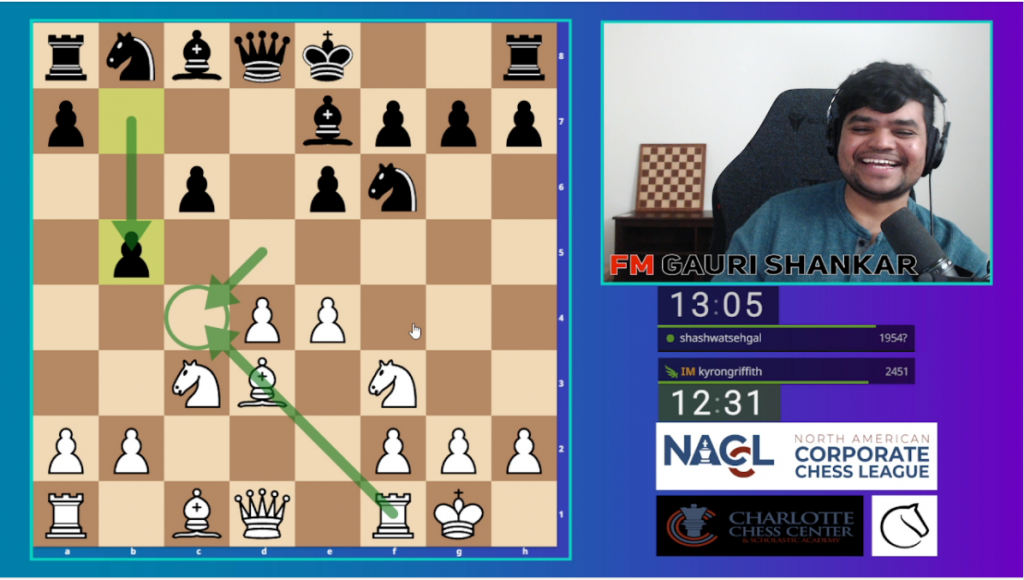 Although we only require Zoom for the top 10 boards, there is robust fair play detection at all levels of the league. Do not risk your professional reputation by cheating in the NACCL.
Season 7 Partners
Season 8
Stay tuned for season 8 coming up in the fall of 2023! Dates to be published soon!
Follow the League
Keep up with updates via this blog, our LinkedIn group, and Facebook page.
Note: The NACCL does not spam its members via Linkedin messaging nor do we share personal contact information with any external companies. Should players, companies, or other entities wish to read out to us, please contact us at [email protected]