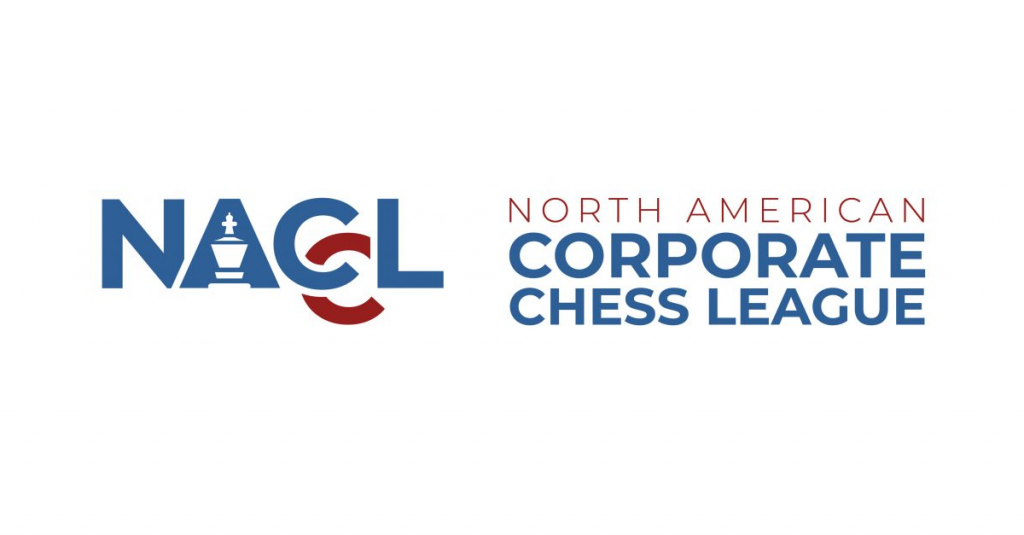 After 2 weeks of the North American Corporate Chess League's seventh season, we have a trio of teams at the top of the leaderboard.  This is particularly exciting as this is the NACCL's largest season with 43 teams and 550+ players.  The NACCL has maintained itself as the largest corporate chess league in the world.
With a simple online check-in process and no downloads, roster submissions, memberships, or powerhouse chess teams from within the industry, the NACCL is very accessible and straightforward, meanwhile emphasizing engagement, team building, and the popularization of chess.
Team Standings
At the top of the team standings are Capital One, Deloitte (Season 4 Champions), and Ernst & Young, each with 19 team points out of a maximum score of 24, indicating the strong level of competition.
Capital One is led by three players at 5 points out of 6: IM Craig Hilby, Chris Yarger, and Weston Wright. Deloitte similarly has two players with 5 points in Cristhian Ortiz and Alexander Williams, while EY is led by Samuel Huff, Jamal Nusrallah, and Chandan Kumar (5.0/6).
A reminder that the NACCL format gathers the top four individual scores within a company's team to form the team score. Accelerated pairings are used in the early rounds to promote close game matchups.
The teams tied for first place are not the only story!
PricewaterhouseCoopers, Red Ventures, and the Susquehanna International Group are on their tails at 18.5 points, just half a point behind. Rounding out the top 11 spots are Citadel Securities, Jump Trading, IBM, Anduril Industries, and DoorDash with 18 points. The only thing that is clear is that there's plenty of competition coming in future weeks!
Individual Standings
In the individual standings, two players are out to a perfect 6/6 start – GM Andrey Baryshpolets (PricewaterhouseCoopers) and Haoyang Yu (Citadel Securities). They are slated to play against each other this week, as are the two players on a 5.5/6 score – NM Andrew Lu (DRW Holdings) and Deepak Nair (IBM).
There are many players on a very respectable 5/6 score, including titled players IM Craig Hilby (Capital One) and NM Francisco Guadalupe (Anduril Industries). In addition to team prizes, there are plenty of individual prizes to play for in every season of the NACCL, including rating-based prizes which allow players of any skill level to win a plaque!
Replay your games, your teammates' games, or any other NACCL games here.
Game Analysis
IM Michael Bodek (Lyft) annotates 4 games every week.
If you feel as though you played an interesting game. Please feel free to send Michael a link to the game via lichess. His account is @mbodek
Peter's Puzzlers
FM Peter Giannatos provides puzzles from games played in the NACCL. These are great tactical warmups and you never know when your game will appear here!
If you had an interesting tactic in your game. Please feel free to send Peter a link to the game via lichess. His account is @Giannatos
Commentary and Lectures
FM Gauri Shankar commentated live on week 2, which you can replay here.
GM Naroditsky and FM Shankar will alternative the Monday improvement lectures which are open to all players. Details sent via email.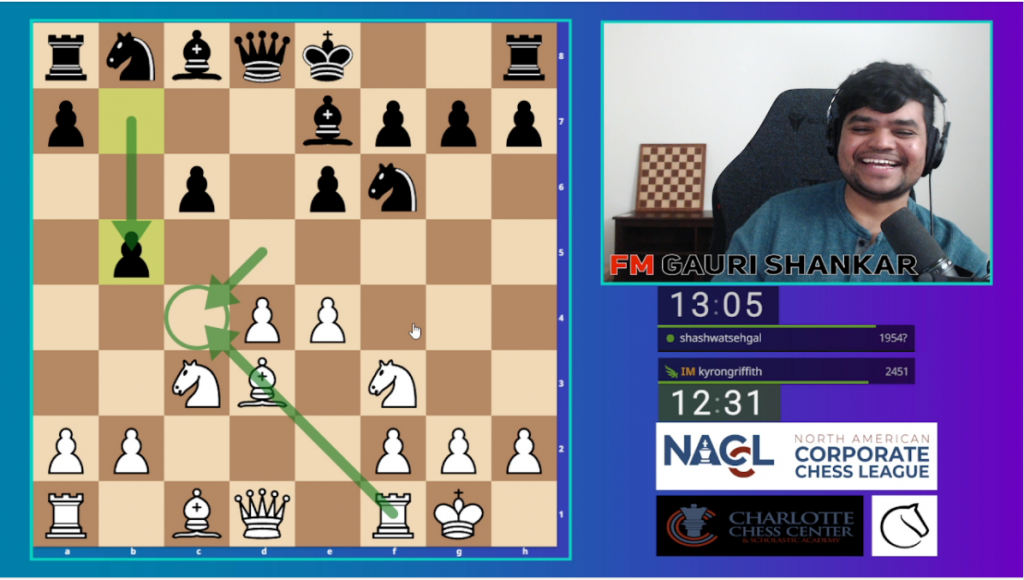 Season 7 Partners
Follow the League
Keep up with updates via this blog, our LinkedIn group, and Facebook page.
Note: The NACCL does not spam its members via Linkedin messaging nor do we share personal contact information with any external companies. Should players, companies, or other entities wish to read out to us, please contact us at [email protected]