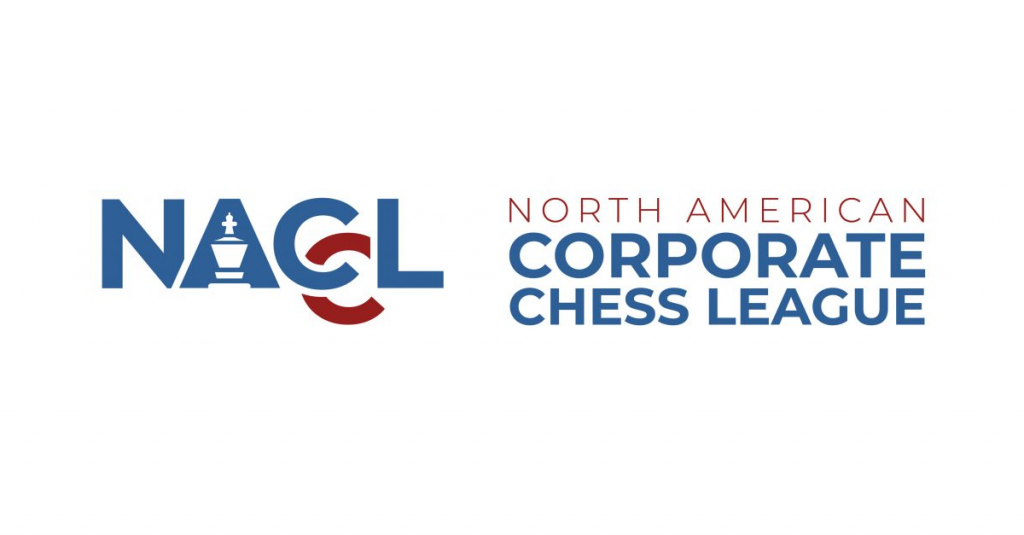 Welcome to season 7 of the North American Corporate Chess League!
While the NACCL continues to be the largest corporate chess league in the world, season 7 has broken all previous records with an amazing turnout. As of week 1, 43 teams and 548 players are signed up – a record by both counts.
There are many returning teams including previous champions Susquehanna International Group (SIG) (Season 1 Champions), Google (Seasons 2, 3, 5, 6 Champions) and Deloitte (Season 4 Champions). There are also many new teams and hundreds of new players.
The NACCL features an inclusive and easy-to-understand format. With a median rating in the 1300s, an overwhelming number of the players in the league are casual players, but they are joined by GM Andrey Baryshpolets (PricewaterhouseCoopers), IM Michael Bodek (Lyft), IM Craig Hilby (Capital One), IM Kyron Griffith (Lyft), as well as many FIDE Masters and National Masters.
The top four scores from each company comprise a team's score, so recreational players can compete without the fear that they are "bringing down" their colleagues. There are also individual standings and prizes, plus weekly chess improvement seminars for all participants.
With a simple online check-in process and no downloads, roster submissions, memberships, or powerhouse chess teams from within the industry, the NACCL is very accessible and straightforward, meanwhile emphasizing engagement, team building, and the popularization of chess.
On Thursday night, 404 of the 548 players checked in for week 1, which for the first time featured 3 rapid games (10 minutes plus 2 second increment per move). 400+ players is also the NACCL record for players competing in a given week!
As is the nature of rapid games, there were a few upsets up and down the crosstable. Many strong players did not get through 3 rounds unscathed.
Team Standings
In the team standings, just one team scored the maximum 12 points out of 12 – IBM! They are in clear first place after four players scored the maximum 3 points on opening night – Billy Vidar, Karthik Palaniappan, Deepak Nair, and Ilyas Essouriani.
Google-A, PricewaterhouseCoopers, Airbnb, and Auduril Industries are just behind with 11 team points, while FINRA, Accenture Federal Services, and Deloitte have 10.5 points. This is certainly the most competitive season yet.
Replay your games, your teammates' games, or any other NACCL games here.
Individual Standings
In addition to team prizes, the NA Corporate Chess League offers individual prizes for the top performers. 39 players move to 3-0 on the individual standings, but with an accelerated pairing system and closer matchups coming up in week 2, the number of perfect scores will be whittled down quickly. Players who skip an early week earn half point "byes" so as to help their team a bit even if they must miss a few weeks.
Game Analysis
IM Michael Bodek (Lyft) annotates 4 games.
If you feel as though you played an interesting game. Please feel free to send Michael a link to the game via lichess. His account is @mbodek
Peter's Puzzlers
FM Peter Giannatos provides puzzles from games played in the NACCL. These are great tactical warmups and you never know when your game will appear here!
Coming soon!
If you had an interesting tactic in your game. Please feel free to send Peter a link to the game via lichess. His account is @Giannatos
Commentary and Lectures
FM Gauri Shankar commentated live on week 1's games, which you can replay here.
GM Naroditsky and FM Shankar will alternative the Monday improvement lectures which are open to all players. Details sent via email.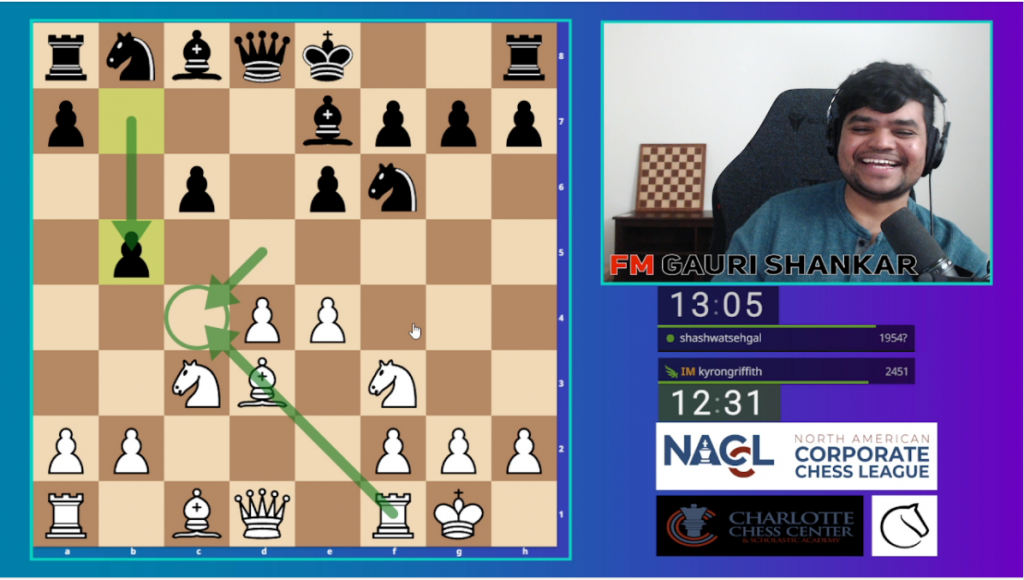 Season 7 Partners
Follow the League
Keep up with updates via this blog, our LinkedIn group, and Facebook page.
Note: The NACCL does not spam its members via Linkedin messaging nor do we share personal contact information with any external companies. Should players, companies, or other entities wish to read out to us, please contact us at [email protected]