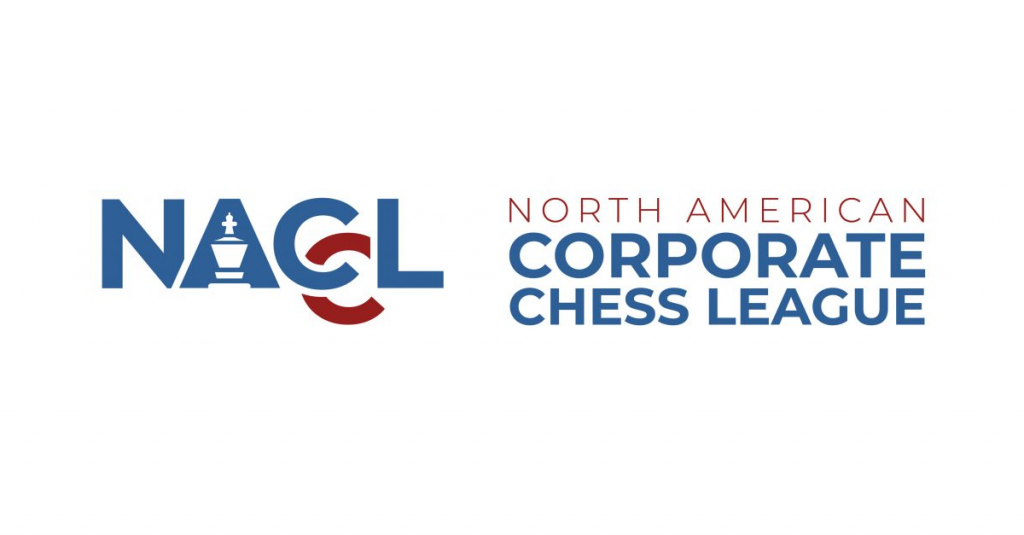 In championship week of the North American Corporate Chess League's season 6, Google held onto their narrow lead to secure the S6 title.  This is Google's fourth title, having also won in seasons 2, 3, and 5.
Team Standings
Finishing with 34 points, Google's team was led by FM Richard Chen (9 points), Lambert Liu / Lasha Lakirbaia (8.5), and a trio of players at 8 points: Michael Quist, Joseph Arasin, and Yash Shah. With the top four players from each company constituting their team score, season 4 champions, Deloitte were only a point back at 33 points. Deloitte's players surely outperformed their ratings, as they were the only top team without a titled player – Benjamin Blium was their top scorer with 9 points.
Tied for third place with 32 points are DRW Holdings and Jump Trading, led by NM Nicholas Desmarais (9 points) and Sam Kater (8.5 points), respectively. Rounding out the top 5 teams was Jane Street (31.5 points), topped by Srisa Changolkar and NM Christopher Yang at 8.5 points.
Plaques are awarded to the top 10 teams overall, as well as the top IT company (Google), top Financial Services company (DRW Holdings), top law company (Sullivan & Cromwell), top small companies (under 250 employees – Zelus Analytics and Cibo Technologies). The full team standings and awards can be seen here.
Individual Standings
Finishing his wire-to-wire victory atop the individual standings was IM Michael Bodek of Lyft, who scored 10 points out of 12 games. In addition to 2 half-point byes for a skipped week, Michael drew top seed GM Andrey Baryshpolets and Lasha Lakirbaia, but won his other 8 games to clinch first place.
In second place was GM Andrey Baryshpolets of PricewaterhouseCoopers with 9.5 points – who won all his games except for a round 9 draw with IM Bodek, but as he needed to skip two weeks, Baryshpolets ends up with the second-place plaque.
Tied for third place with 9 points are:
NM Nicholas Desmarais (DRW Holdings)
FM Richard Chen (Google)
Max Hofmann (Sullivan & Cromwell)
Benjamin Blium (Deloitte)
NM Atulya Vaidya (Capital One)
The top 9 players in the individual standings represent different companies, a true testament to how diverse the NACCL is, and how many teams and players were in contention for both the individual and team awards.
Plaques are engraved and mailed to the top 10 players overall, as well as top 5 in the Under 2000, U1800, U1600, U1400, U1200, and Unrated categories. See full individual standings and awards here.
Kyron's Corner
IM Kyron Griffith (Lyft) annotates 4 games each week of the NACCL. See those games with his comments below:
If you feel as though you played an interesting game. Please feel free to send Kyron a link to the game via lichess. His account is @kyrongriffith
Peter's Puzzlers
FM Peter Giannatos provides puzzles from games played in the NACCL. These are great tactical warmups and you never know when your game will appear here!
If you had an interesting tactic in your game. Please feel free to send Peter a link to the game via lichess. His account is @Giannatos
Commentary and Lectures
FM Peter Giannatos had the call on week 6 commentary, which can be replayed here.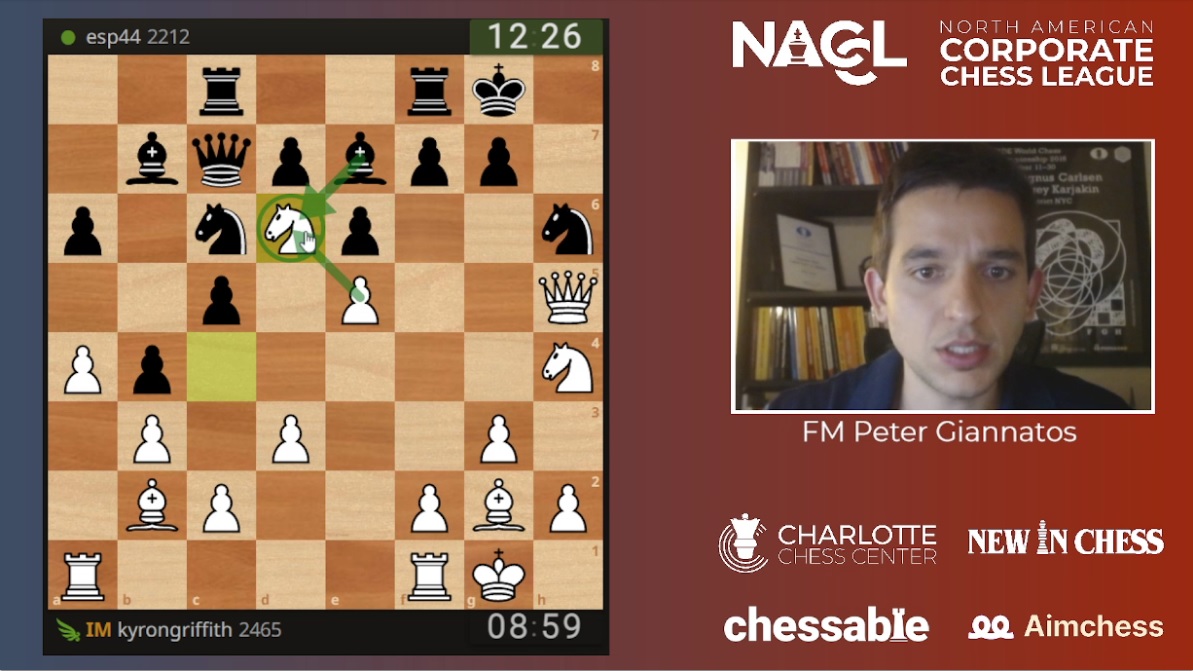 Season 6 Partners
Season 7
Season 7 will be scheduled to start in Q1 of 2023. Stay tuned for more details!
Follow the League
Keep up with updates via this blog, our LinkedIn group, and Facebook page.
Note: The NACCL does not spam its members via Linkedin messaging nor do we share personal contact information with any external companies. Should players, companies, or other entities wish to read out to us, please contact us at [email protected]