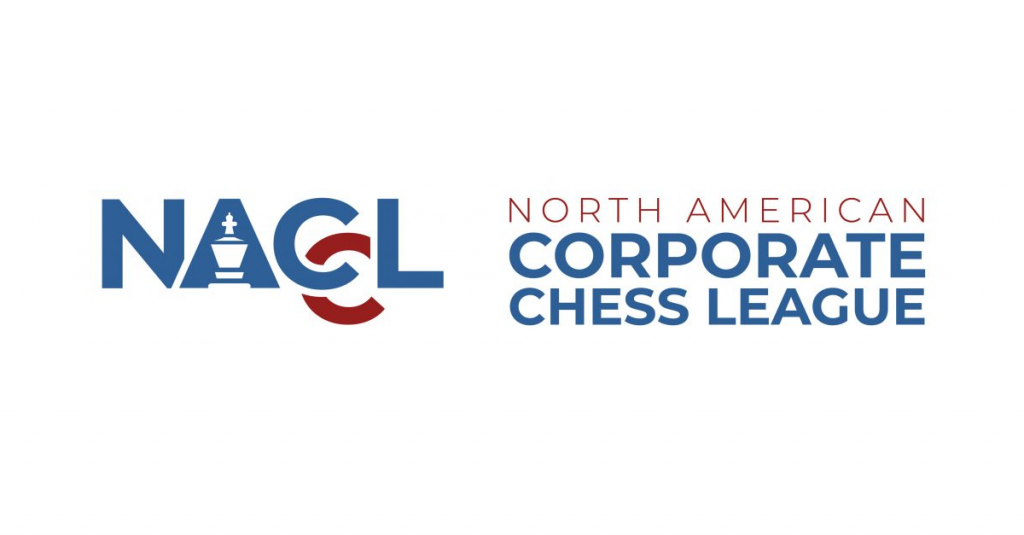 Championship week of the North American Corporate Chess League's season 5 featured top level action, with many leadership changes and exciting games through the final two rounds of play.
Team Standings
The second half of season 5 featured a competitive "rivalry" between Google and the Susquehanna International Group (SIG). With strong teams such as FINRA, Nvidia, DRW Holdings, Milliman, Qualcomm, and many others close on their heels, every single game would matter in this championship week.
In the end, just as in season 3, Google won in a thrilling final, scoring 36.5 team points. Close behind were SIG at 34.5 points, and Nvidia took the bronze with 33.5 points. The full team standings and prizewinners can be found here.
Google had a well-balanced team with strong performances by:
Arunava Bhattacharjee – 9.5 points
Yash Shah, Ravi Khanna, Thomas Hoekman – 9 points
SIG's second place squad were bolstered by:
GM Andrew Tang – 11 points
Cory Reigelhaupt and Peter Williamson – 8.5 points
Bryce Streeper and Aranav Baid – 7.5 points
Briefly in title contention but settling for a very solid third place are Nvidia, who were led by:
Michael Lu – 9 points
Anil Gahlot – 8.5 points
Matthew Mendell and Rahul Malayappan – 8 points
Plaques are awarded to the top 10 teams, in addition to the top IT Company (Google), top Financial Services Company (SIG), 1st and 2nd Small Company (Neuroastronomy and Arthur AI), and Top Law Company (Sullivan & Cromwell).
There were many teams in contention for the NACCL title, but congratulations to Google, the first repeat champions!
Individual Standings
The individual standings were much of a one man show, with GM Andrew Tang (SIG) scoring a perfect 10/10, plus one skipped round (earning two byes) for a total score of 11 points out of 12. Tied for second place at 9.5 points are Arunava Bhattacharjee of Google and NM Kevin Bu of Peak6 Investments.
Overall, there were awards for the top 15 players overall, plus the top 10 rated under 1700, top 10 under 1100, and top 10 unrated. Each of these prizewinners will earn a plaque.
Kyron's Corner
IM Kyron Griffith (Lyft) annotates 4 games each week of the NACCL. See those games with his comments below:
If you feel as though you played an interesting game. Please feel free to send Kyron a link to the game via lichess. His account is @kyrongriffith
Peter's Puzzlers
FM Peter Giannatos provides puzzles from games played in the NACCL. These are great tactical warmups and you never know when your game will appear here!
If you had an interesting tactic in your game. Please feel free to send Peter a link to the game via lichess. His account is @Giannatos
Commentary and Lectures
NACCL Director FM Peter Giannatos had the call on the final week, which can be replayed here. A special thanks to GM Daniel Naroditsky who conducted live, weekly, improvement seminars for participants in the league.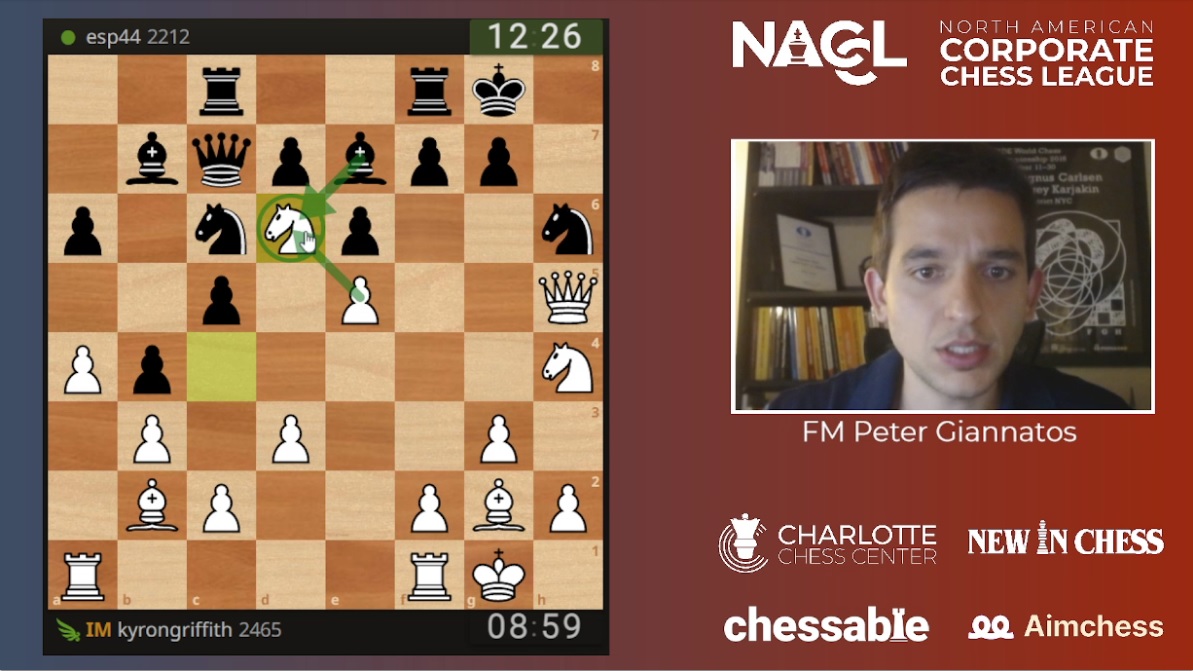 Thank You!
Thank you to our sponsors, staff, and partners, and congratulations to all the winners! See you for season 6, beginning in November 2022!
Follow the League
Keep up with updates via this blog, our LinkedIn group, and Facebook page.
Note: The NACCL does not spam its members via Linkedin messaging nor do we share personal contact information with any external companies. Should players, companies, or other entities wish to read out to us, please contact us at [email protected]