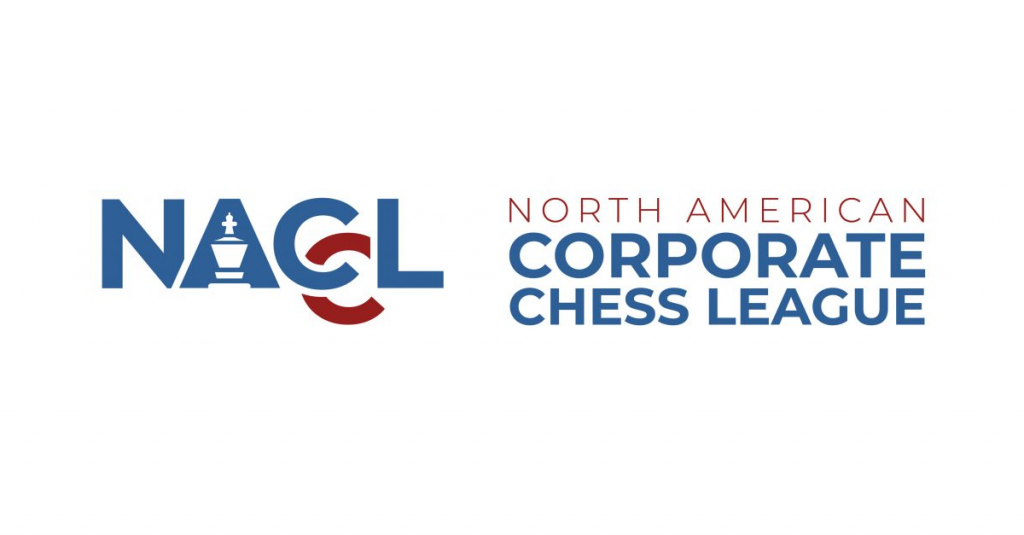 After 5 weeks (10 rounds) of the North American Corporate Chess League's fifth season, longtime frontrunners Google and the Susquehanna International Group (SIG) are tied at the top of the leaderboard with 29.5 points. However, many teams are right behind them, most notably:
Tied for 3rd Place: FINRA – 28 points
Tied for 3rd Place: Nvidia – 28 points
Tied for 5th Place: DRW Holdings – 27.5 points
Tied for 5th Place: Milliman – 27.5 points
Tied for 5th Place: Qualcomm Inc. – 27.5 points
8th Place: Accenture Federal Services – 27 points
Tied for 9th Place: Hewlett Packard Enterprise – 26.5 points
Tied for 9th Place: Peak6 Investments – 26.5 points
None of the teams ranked in 3rd through 10th place have ever taken down a NACCL title, and undoubtedly that will be the goal for these strong players and teams in week 6.
With each of the top 4 individual scorers on a team forming that company's team score, lead changes and surprise winners will be the name of the game in the final championship week. A few close games can affect the entire leaderboard in the final two weeks! Check out the full team standings here.
Individual Standings
At the sole lead of the individual standings is GM Andrew Tang (rated 2605) of SIG with 9 points out of 10 – his only "blemishes" are two skipped rounds (half-point byes). Putting up a strong performance to put himself in clear second place after 10 rounds is Max Berube (1986) of Milliman who has 8.5 points out of 10. Rounding out the top 5 with 8/10 points are Srinath Gnanassegerane (HPE), Tristan Gruska (Palantir), and NM Francisco Guadalupe (Anduril).
With many team and individual prizes and such tight competition, there is everything to play for in the final week!
Special Announcement
The NACCL and the Charlotte Chess Center's free Qualifier tournaments to the 2022 Fischer Random World Championship continue on lichess for several more days – check out CCC News Article and Lichess Announcement (updated).

Kyron's Corner
IM Kyron Griffith (Lyft) annotates 4 games each week of the NACCL. See those games with his comments below:
If you feel as though you played an interesting game. Please feel free to send Kyron a link to the game via lichess. His account is @kyrongriffith
Peter's Puzzlers
FM Peter Giannatos provides puzzles from games played in the NACCL. These are great tactical warmups and you never know when your game will appear here!
If you had an interesting tactic in your game. Please feel free to send Peter a link to the game via lichess. His account is @Giannatos
Commentary and Lectures
NACCL Director FM Peter Giannatos had the call on week 5 commentary, which can be replayed here. Each Monday is our weekly improvement seminar with GM Daniel Naroditsky.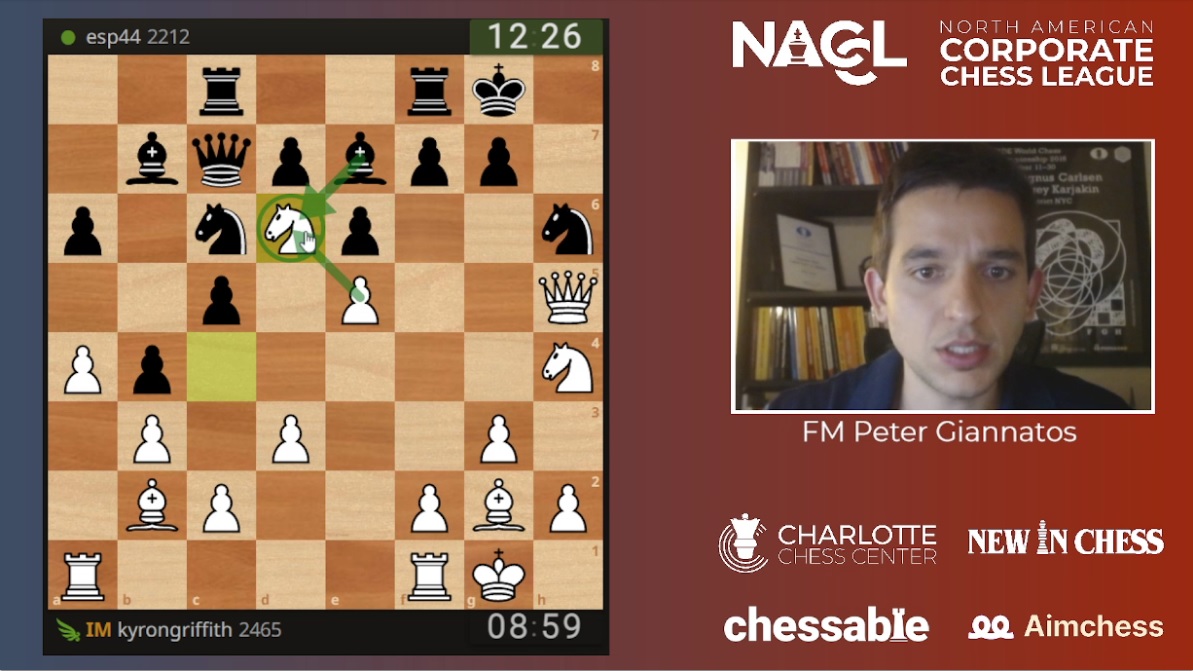 Season 5 Partners
Follow the League
Keep up with updates via this blog, our LinkedIn group, and Facebook page.
Note: The NACCL does not spam its members via Linkedin messaging nor do we share personal contact information with any external companies. Should players, companies, or other entities wish to read out to us, please contact us at [email protected]