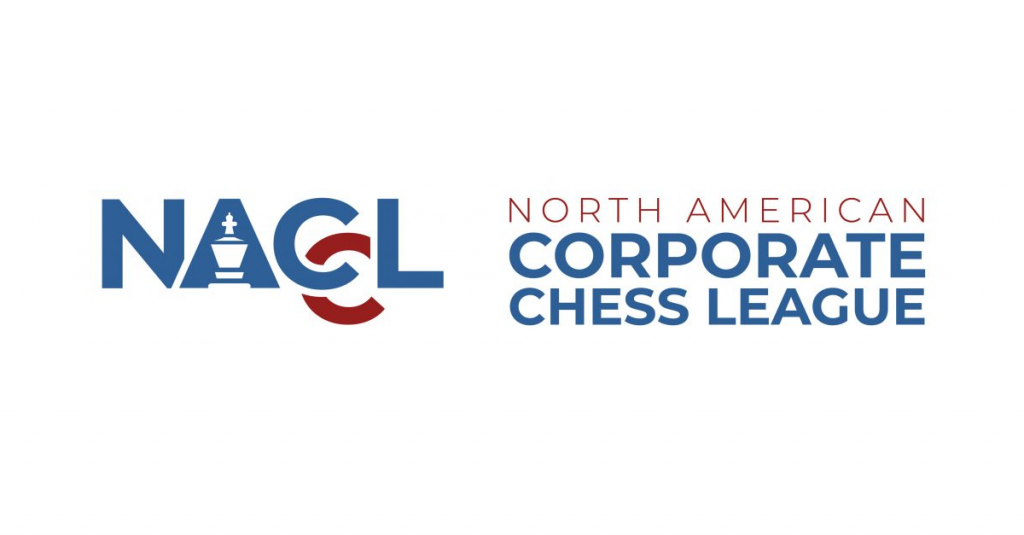 The North American Corporate Chess League's week 3 seemed destined to create some separation between the leaders. However, the team and individual standings are forming quite a logjam. 330 of the 435 registered players check-in for Thursday's rounds 5 and 6, which produced plenty of upsets and interesting games.
Week 3
As discussed in last week's blog, the relatively surprising leaders after four rounds were Qualcomm Inc. and Jump Trading, who had a few strong unrated players leading their team to a 14 point score. As those top teams faced tough pairings in week 3, a new leader emerged in Deloitte, who now have 20.5 points out of a possible 24. Deloitte's secret weapon is National Master Samuel Song (2300) who has 6/6 after defeating Grandmaster Akshayraj Kore of Capital One:
Just half a point behind Deloitte are Wells Fargo and Lyft, Inc with 20/24. Wells Fargo has a small but solid squad led by GM Ashwin Jayaram (2571), who has scored 6-0. Grandmaster Jayaram is backed up by two expert players local to Charlotte in David Stamper (2080) and Patrick McCartney (1943). Lyft's team has two titled players in FM Kyron Griffith and FM Varun Krishnan, whose games have been featured in previous blogs.
As usual, I like to feature an exciting game where the evaluation jumps around throughout the course of the game. Check out this encounter between Ara Hayrapetyan (Jump Trading) and Gianluca Montalti (Torchlight Investors) and see if you can spot the endgame save that White missed:
Nagesh Gummadivalli of Capital One, rated 1418, played a nice attacking game and scored the upset against Charlie Durham of Wells Fargo.
Standings
As we are only halfway through the first season of the North American Corporate Chess League, it is simply too early to tell if any teams and players are clear favorites to win the top prizes. While Deloitte leads the Team Standings with 20.5, there are two teams at 20 points as well as Qualcomm at 19.5. Rounding out the top six are Susquehanna International Group, LLC (SIG) and IBM at 18 points. With the top four scores on each team contributing to the team score, there is plenty of movement happening each week.
Three titled players remain unscathed (6-0) at the top of the Individual Standings – GM Ashwin Jayaram (2571) of Wells Fargo, FM Kyron Griffith (2470) of Lyft, and NM Samuel Song (2300) of Deloitte. Two strong players are just behind them with 5.5/6 – NM Siddharth Arun of Charles River Associates and Brian Luo of SIG. There are no less than 20 players behind them with a 5-1 score.
Commentary + Lectures
FM Peter Giannatos' live week 3's commentary, can be replayed here. Monday's improvement seminar with GM Daniel Naroditsky was very well-received by attendees, and will back back every Monday for more improvement tips!
The NACCL is more than just a chess tournament for adults. It's a team bonding experience and a way to complement and enhance corporate performance. The NACCL has scheduled "Chess and Business" seminars that all participants are encouraged to join these lectures and are included as part of their membership to league.
Lecture Schedule:
GM Daniel Naroditsky – Chess Improvement Seminars

Every Monday from 8:00pm-9:00pm EST

GM David Smerdon, PhD – Your Opponent's Mind: A Behavioral Economist's Guide to Chess

Friday, February 5, 7:00pm-8:00pm EST

GM Patrick Wolff – The Parallels of Chess and Finance

Wednesday, February 17, 7:30pm-8:30pm EST

GM Matthew Sadler – Finding a Path: Lessons from Chess Applied to IT

Sunday, February 21, 3:00pm-4:00pm EST
The links for these lectures are sent out in the NACCL's weekly newsletter. Please let us know if you have not received our weekly newsletters.
League Tactics Test
Lichess currently fixing embed codes to enable piece movement. In the meantime, you can click the square in the bottom right corner to solve on lichess directly or use this link.
Follow the League
Keep up with updates via this blog, our LinkedIn group, and Facebook page.
The NACCL has already made history in its first season and we would like to thank so many teams and players for competing. Onwards to week 4!